Check out this Kingdom Hearts 3 (KH3) ReMIND DLC walkthrough & map of Twilight Town! Including Lucky Emblems, emblem locations, treasure chests, boss fight tips, & gameplay tricks!
Story Progression & Walkthrough
Check Out All Story Walkthrough List!
Twilight Town - Walkthrough & Map
Twilight Town - Walkthrough Chart
| No | Procedure |
| --- | --- |
| 1 | Defeat the group of Nobodies you encounter first |
| 2 | Face and defeat the Demon Wave |
| 3 | After battling the Demon Wave, grab the town map in the plaza |
| 4 | Using the underground water system, head towards the forest outside of Twilight Town |
| 5 | Beat the group of Heartless that you encounter |
| 6 | After a cutscene, you'll need to battle flocks of enemies |
| 7 | Head back into Twilight Town |
| 8 | After going back to Twilight Town, go around town to collect 9 ingredients |
Twilight Town - Treasure Chest & Lucky Emblem Locations
1. Group Of Nobodies - Hint & Tips
Use Attraction Flow & Links To Defeat Nobodies
The moment you enter Twilight Town, you'll have to face a number of enemies. Don't forget to trigger your Attraction Flow and use available links to easily defeat them.
2. Demon Wave - Hint & Tips
Keep Safe Distance From Demon Wave
The Demon Wave is a daunting enemy in this stage. It can attack through walls and floors so keep at a safe distance, use ranged attacks like magic or links to whittle down its health.
Bring HP Down By 2.5 Gauges To Repel
The Demon Wave will have a lot of HP when you face it. In order to repel it, you need to bring its health down by around 2.5 gauges. Use magic and links to help you win this fight.
3. Twilight Town Map - Hint & Tips
Map Is In Chest In Twilight Town Plaza
After defeating the Demon Wave, you can find the map of Twilight Town inside a big treasure chest in the plaza. It's on the floor to the left of a big screen.
8. Search For Ingredients - Hint & Tips
Find 9 Ingredients To Unlock Restaurant Mini-Game
When you return to Twilight Town, you can scour the area for various ingredients. You can use these ingredients to activate the mini-game with Remy the mouse chef from Disney's Ratatouille.
Location List Of Ingredients
Some of the ingredients are tricky to find so check the list below to know where they are exactly in Twilight Town.
Twilight Town Ingredient Locations
1. Restaurant Square
2. Area Around Restaurant Square
3. Outdoor Cinema Location 1
4. Outdoor Cinema Location 2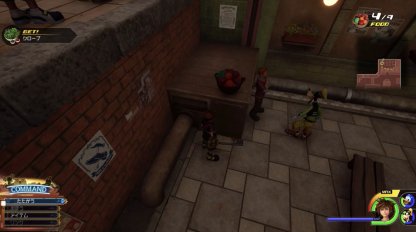 5. Twilight Town Square 1
6. Twilight Town Square 2
7. Building Roof
8. Meeting Area
9. Restaurant Facade
Rewards & Obtainable Items
Check Out All Keyblades List - How to Get & Stats
Kingdom Hearts 3 (KH3) Related Article