Get tips on how to complete "Launch Through Flaming Hoops with a Cannon" from the Fortnite Season 8 Week 10 Challenge with this guide & walkthrough, including the flaming hoop locations!!

Week 10 Featured Challenges
Check Out Season 8 Challenge & Rewards!
All 7 Flaming Hoops Locations Video Available!
Check out all available Flaming Hoops locations in the video guide below!
Launch Through Flaming Hoops with a Cannon Challenge
Launch Through Flaming Hoops with a Cannon - Summary

| | |
| --- | --- |
| Details | Launch Through Flaming Hoops with a Cannon |
| Released On | Season 8 Week 10 |
| Reward | |
Show off your acrobatic and aiming skills as you launch yourself in the air and through flaming hoops for this challenge! Pass a number of them to get the Battle Star reward.
Flaming Hoops - Locations

South of Salty Springs
A Ring of Fire can be found south of Salty Springs, right in front of the Pirate Camp there. It's floating in mid-air between 2 hills.
Shoot from Pirate Camp at the Hill

You'll be able to go through the hoop quite easily from the Pirate Camp in the hill south of the Flaming Hoop. The camp is equipped with several Pirate Cannons that you can use.
3. South of the Volcano
Right above the lava river is a flaming hoop suspended in the air. It's just south of the volcano so it's not that hard to miss.
Shoot from Pirate Camp on the Volcano
There's a Pirate Camp attached to the base of the Volcano that you can use to pass through the hoop. Jump into one of its Pirate Cannons and blast your way through the air!
3. Lazy Lagoon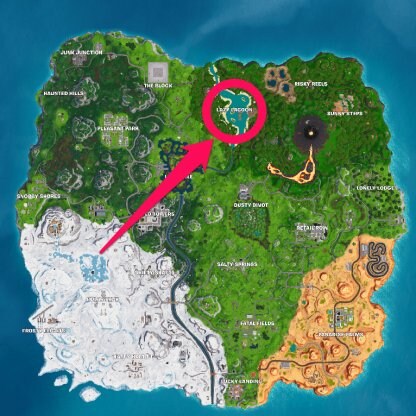 A Flaming Hoop has found its way above the blue waters of Lazy Lagoon. It floats way up in the air, even higher than the tallest point of the Pirate Ship.
Shoot from Docks

The best angle to shoot through the hoop is at the docks. Search for a Pirate Cannon there and use it to shoot yourself through the air and the hoop!
Tips to Complete the Challenge
Clear Out Obstacles First

Make it easier for you to aim when inside the Pirate Cannon by clearing out any blockades in your way. This will give you a better view of the hoop and plan your trajectory.
Shoot Above Hoop Instead of Its Middle

When aiming for the hoop, set your aim a bit above the hoop rather than its middle. This will take into account the trajectory drop and get you across the hoop!
Fortnite Season 8 Weekly Challenge Articles
Check Out Season 8 Challenge & Rewards!
Featured Weekly Challenges