Complete the "Visit All the Expedition Outposts" for Fornite's Season 7 Week 7 challenges with this guide! Included here are expedition outpost locations & tips!!

Week 7 Featured Challenges
Check Out Season 7 Battle Pass Challenges
Expedition Outposts Location Walkthrough
Visit All 7 Expedition Outposts
Visit All Expedition Outposts - Summary

| | |
| --- | --- |
| Details | Visit All Expedition Outposts |
| Released On | Season 7 Week 7 |
| Reward | |
Take a break while exploring at Expedition Outposts! To complete this challenge, you'll need to go to all 7 Expedition Outposts that can be found across the map.
Battle Pass Not Required for this Challenge
This challenge is part of the Free Pass challenges. It is available for both owners and non-owners of the Season 7 Battle Pass.
Check Out Season 7 Battle Pass Here!
Expedition Outpost Locations

1. Between Snobby Shores & Viking Village
You can find an Expedition Outpost east of Snobby Shores. It is on the valley found between the mountain of the Villain's Lair and the Viking Village.
2. North of Pleasant Park
On the mountain just north of Pleasant Park is an Expedition Outpost! There are multiple ziplines that you can use to climb to it.
3. West of Tomato Temple
On the hills west of Tomato Temple, you can find another Expedition Outpost! This one is not as high up as the other ones so you can get to it easily.
4. West of Lonely Lodge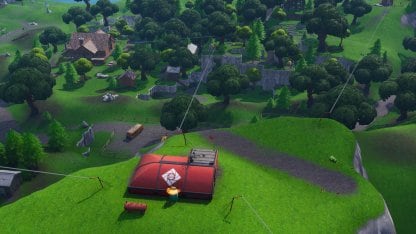 Another Expedition Outpost up on a mountain! This one can be found in the mountain west of Lonely Lodge.
5. West of Dusty Divot
Look for the mountain west of Dusty Divot to get to this Expedition Outpost! It has a great view of Dusty Divot's forest!
6. North of Happy Hamlet

Head north of Happy Hamlet to find the mountain where this Expedition Outpost is on. It's nestled between the mountain's ridges.
7. West of Paradise Palms
There's an Expedition Post west of Paradise Palms! It's almost at the edge of the Desert Biome.
Tips to Complete This Challenge
Complete the Challenge in 2 Games

Here's a route plan your can follow to complete this challenge within 2 games! Start with the ones on the top of the map first for the first match, then for the second, complete the remaining two left!
Take Note of Which Outposts You've Visited

To make it easier for you to keep track of which Expedition Outpost you still need to visit, it's better to jot down which ones you've gone to. It's hard to keep track since the Challenge Progress does not show which ones you've gone to.
Use Vehicles to Get Around Faster

Hop on a vehicle to make going to each Expedition Outpost easier! We recommend the X-4 Stormwing to get around since it can get you to those mountains quite easily.
Check Out the Vehicle List & Guide Here
Go Up Mountains with Ziplines

Ziplines are a great way to get up mountains in a snap since they go both ways! There are even some that connect between mountains for easy access!
Fortnite Season 7 Weekly Challenge Related Article
Week 10 Featured Challenge Guide
Week 9 Featured Challenge Guide
Week 8 Featured Challenge Guide
Week 7 Featured Challenge Guide
Week 6 Featured Challenge Guide
Week 5 Featured Challenge Guide
Week 4 Featured Challenge Guide
Week 3 Featured Challenge Guide
Week 2 Featured Challenge Guide
Week 1 Featured Challenge Guide