Check out this guide to complete Fortnite's Season 7 Week 10 "Visit Expedition Outposts" Challenge! Learn all about the Expedition Outpost locations & more here.

Week 10 Featured Challenges
Check Out Season 7 Challenge & Rewards!
Visit Expedition Outposts in a Single Match
Visit Expedition Outposts Challenge - Summary

| | |
| --- | --- |
| Details | Visit Expedition 4 Outposts in a single match |
| Released On | Season 7 Week 10 |
| Reward | |
Explore the land and visit the Expedition Outposts scattered across the map. Visit enough in a single match and you will complete this challenge!
Battle Pass Required to Complete
This challenge is part of the Battle Pass challenges. It's only available for players who have purchased the Season 7 Battle Pass.
Check Out Season 7 Battle Pass Challenges
Expedition Outpost Locations

1. Between Snobby Shores & Viking Village
One of the Expedition Outposts can be found east of Snobby Shores. It's in the valley east of the Viking Village's mountain.
2. North of Pleasant Park
There's an Expedition Outpost on the mountain north of Pleasant Park. It overlooks the park from its perch high on the mountain.
3. West of Tomato Temple
On the other side of the river from Tomato Temple, you will find an Expedition Outpost. It's on a hill so you'll have to do a bit of a climb.
4. West of Lonely Lodge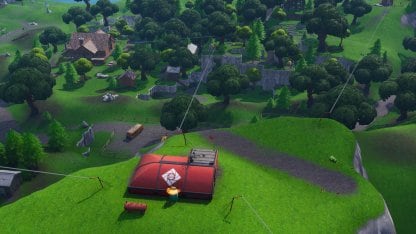 This Expedition Outpost directly overlooks Lonely Lodge. Check for it on the mountain on the west edge of the forest.
5. West of Dusty Divot
There's an Expedition Outpost on the mountain towering over Dusty Divot. Head west from the crater to find it.
6. North of Happy Hamlet

Against the snow, the Expedition Outpost is quite easy to find! Head on the mountain north of Happy Hamlet to see this red structure.
7. West of Paradise Palms
The Expedition Post can be found west of Paradise Palms. It's almost on the edge of the Desert Biome.
Tips to Complete the Challenge
Use Ziplines to Go Up / Down Mountains

Most of the Expedition Outpost are high up on the mountains. Conserve your building materials and use the ziplines around instead. Expedition Outposts often have a zipline near them.
Cannot be Completed Across Multiple Matches
This challenge requires players to complete it in a single match. Failing to complete the challenge in a match will reset the progress of the challenge.
Fortnite Season 7 Weekly Challenge Related Article
Week 10 Featured Challenge Guide
Week 9 Featured Challenge Guide
Week 8 Featured Challenge Guide
Week 7 Featured Challenge Guide
Week 6 Featured Challenge Guide
Week 5 Featured Challenge Guide
Week 4 Featured Challenge Guide
Week 3 Featured Challenge Guide
Week 2 Featured Challenge Guide
Week 1 Featured Challenge Guide