Complete the "Get a score of 10 or more on a Carnival Clown Board" 14 Days of Summer challenge with this guide! This includes the reward, Carnival Clown Board locations, and more!!

Latest 14 Days Of Summer Challenges
Check Out the 14 Days of Summer Event Here
Get a Score of 10 or More on a Carnival Clown Board Challenge
Challenge Summary

| | |
| --- | --- |
| Challenge Details | Get a score of 10 or more on a Carnival Clown Board |
| Release | July 05, 2019 |
| Reward | BEACHBALLS Contrail |
Don't end a party without playing a game! Completing this challenge is as easy as simply getting a score of 10 or more on any of the Carnival Clown Boards found within the map.
Carnival Clown Board Location

1. At the Northern End of Lazy Lagoon
There's a beach party at the very end of Lazy Lagoon's river. Follow the river upstream to find the beach party!
2. Loot Lake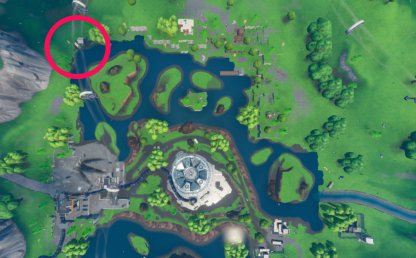 There's a party in Loot Lake and everyone's invited! Go to the northwest shore of the lake to see the party complete with oversized lawn chairs.
3. Southeast of Neo Tilted
On the riverbanks near Neo Tilted, there's another beach party going on. It's pretty close to the southeast end of Neo Tilted so it's not hard to miss.
4. Dusty Divot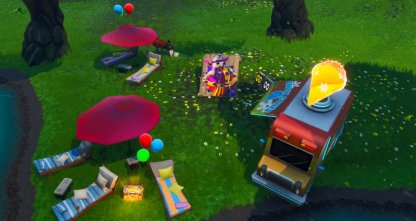 Dusty Divot is having it's own party. Go to the small lake at the south end of the crater to join in.
5. Northwest of Paradise Palms
Take a dip and party on in one of the oasis in the Desert Biome. This one is northwest of Paradise Palms, near the border of the Desert Biome.
6. Southwest of Paradise Palms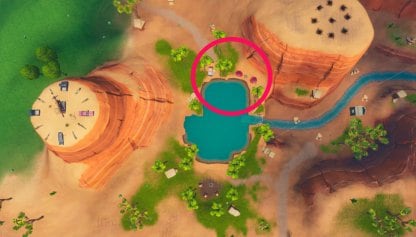 Not to be upstaged, the bigger oasis in the Desert Biome is also having a party. This time, head southwest of Paradise Palms to find it!
Tips to Complete the Challenge
Use Your Pickaxe to Pop Balloons

Save your bullets because the balloons can be easily popped with just your pickaxe. Stand near the board and aim your strikes to the emerging balloons.
Check Your Score on the Scoreboard

Not sure how much more balloons to pop for the challenge? You can easily check your score on the Scoreboard by the side of the Carnival Clown Board.
14 Days of Summer Event - Overview
Earn Summer Rewards in 14 Days of Summer Challenges
| | |
| --- | --- |
| Duration | June 25 - July 15, 2019 |
Every day for 2 weeks, a new challenge is introduced for players to complete and gain exclusive summer-themed rewards. All of this is part of the Fortnite's summer event, 14 Days of Summer!
Recommended Fortnite Articles
Check Out The 14 Days of Summer Here
14 Days Of Summer Challenges