Find out how to complete the "Visit a Corrupted Area in Different Matches" for Part 1 of the Fortnitemares Challenge! Get locations and tips for competing the challenge here!!

Visit A Corrupted Area In 7 Different Matches (Part 1)

| | |
| --- | --- |
| Details | Visit a Corrupted Area in 7 Different Matches |
| Release On | Fortnitemares Challenge PT1 |
| Reward | 500 XP |
Corrupted areas are large patches of barren areas with vents and Cube Fragments. Visit one in 7 different matches to complete this challenge!
Corrupted Areas Locations

The 7 locations of Corrupted Areas are indicated in the image above.
Corrupted Area 1: Southwest of Pleasant Park
Corrupted Area 2: South of Lazy Links
Corrupted Area 3: Wailing Woods
Corrupted Area 4: South of Retail Row
Corrupted Area 5: West of Dusty Divot
Corrupted Area 6: Between Greasy Grove and Shifty Shafts
Corrupted Area 7: Northwest of Fatal Fields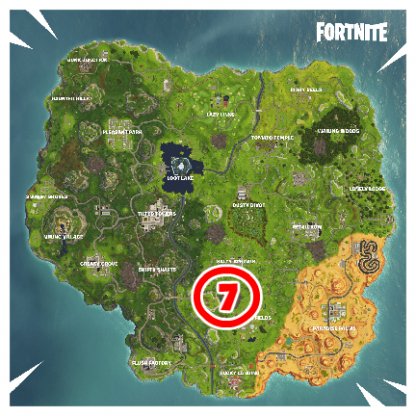 Corrupted Areas Tips
You Can Visit The Same Location
No need to worry about keeping track of which location you've been too. Visiting the same location in different battles will count!
Watch Out For Cube Monsters

Cube Monsters will always go after players. Shoot them when you see them and get loots as rewards!
Be Prepared To Fight Players

Other players will also be attempting to complete the challenge so be prepared to fight!