Get tips on how to complete "Eliminations at Sky Platforms" for Fortnite Battle Royale Season 9 Week 5 Challenge with this guide and walkthrough! Includes locations of Sky Platforms, gameplay tips, & more!!

Week 5 Featured Challenges
Season 9 Battle Pass Challenge & Rewards List
Eliminations At Sky Platforms Challenge
Eliminations At Sky Platforms - Summary
| | |
| --- | --- |
| Details | 3 Eliminations At Sky Platforms |
| Released On | Season 9 Week 5 |
| Reward | |
You will be able to complete this challenge by eliminating 3 enemies while on a Sky Platform! Come prepared as these platforms have only so much space for you to move in!
Sky Platform Locations

1. Southwest of Pleasant Park
This Sky Platform can be found just southwest of Pleasant Park, overlooking the icy southern area.
2. Near Lazy Lagoon
This Sky Platform can be found just near Lazy Lagoon to the southwest.
3. Near Pressure Plant
This Sky Platform is just located near the volcano, now known as Pressure Plant.
4. West Of Shifty Shafts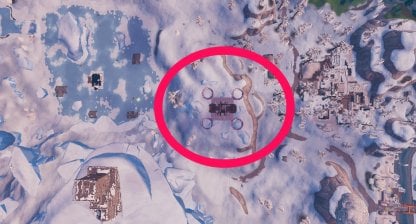 This Sky Platform can be found a bit to the west of Shifty Shafts or northeast of Polar Peak.
5. Near Dusty Divot
This Sky Platform is located just a few ways off southeast of Dusty Divot.
6. Near Salty Springs
This Sky Platform can be found just a bit to the south of Salty Springs.
7. North Of Paradise Palms
This Sky Platform is located directly north of Paradise Palms.
Tips To Complete The Challenge
Land As Fast As You Can

It is likely that many enemies will attempt to land on this location to complete the challenge as well. It is recommended that you try to land as fast as you can in order to get hold of weapons first and eliminate enemies before they can shoot you!
Check Out How To Land Faster Here!
Equip A Close Range Weapon
Due to the tight spaces featured on the Sky Platforms, a weapon that excels in close quarters combat is recommended. Grab a shotgun or submachine gun in order to make quick work of your enemies!
Check Out The Best Weapons Here!
Your Progress Carries Over To The Next Match
There is no pressure if you were not able to complete the challenge in a single match! Your progress will carry over to your next match!
Fortnite Season 9 Weekly Challenge Articles
Check Out Season 9 Challenge & Rewards!
Featured Weekly Challenges