This guide will help you finish the "Timed Trial" challenge for Fortnite Season 6 Week 3 Challenges, including all the locations of the Time Trial Clocks & their destinations! Move fast!!

Week 3 Featured Challenge Guide
Season 6 Weekly Challenge Guide
Check Out Season 6 Battle Pass Challenges!
Move Fast to Beat the Clock
Complete Timed Trials Challenge - Summary
| | |
| --- | --- |
| Details | Complete Timed Trials |
| Released On | Season 6 Week 3 |
| Reward | |
Battle Pass Required to Complete
You need the Season 6 Battle Pass to access this challenge. Check out other challenges you can complete with the Battle Pass!
Check Out Season 6 Battle Pass Challenges!
How to Activate the Time Trials
Find the Clock to Start the Challenge

Come up to any one of the clocks and interact with it to start the Time Trial! You will also receive the objective that you need to do.
Run like the Wind!

Once you've got the objective, move as quickly as possible to collect the blue hologram markers before the time runs out!
Stock Up on Building Materials!

Some locations require you to use building to get to your markers. Make sure to Make sure to collect some building materials before attempting the trials!
Locating the Timed Trial Location

1. Rocket Silo Ruin to East of Snobby Shore
Build Your Way Down the Hill

Build your way down the hill in this Challenge to get past all the checkpoints.
2. Tomato Temple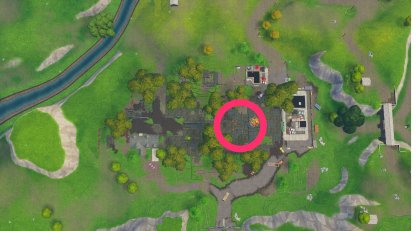 Platform Building Required!

Trial in the Tomato Temple requires you to build a stair platform for you to complete it. Use the image as a reference and build your steps in advance!
3. Bridge to South of Shifty Shafts
Run Along the Bridge Beam

In this Trial, you will need to race on top of the bridge beam, The bridge seems tight, but is surprisingly navigatable, so don't slow down!
4. Tilted Tower

Good Amount of Building Material Required

This trial will need you to create number of platforms up and around the small shack, be sure to stack up on building materials and plan your route!
5. Dusty Divot

Create a Catwalk Platform

You will need to build yourself a catwalk for you to complete this Timed Trial. Prepare yourself by building up and around the route!
Fortnite Weekly Challenge Related Article
Week 10 Featured Challenge Guide
Week 7 Featured Challenge Guide
Week 6 Featured Challenge Guide
Week 5 Featured Challenge Guide
Week 4 Featured Challenge Guide