Complete Fortnite's Season 6 Week 2 Challenge "Visit all of the corrupted areas" with this guide! This guide features all of the locations and tips for completing the challenge!!

Season 6 Weekly Challenge Guide
Check Out Season 6 Challenge & Rewards!
Visit All Of The Corrupted Areas (Week 2)

| | |
| --- | --- |
| Details | Visit all of the corrupted areass |
| Release On | Season 6 Week 2 |
| Reward | |
Corrupted areas are large patches of areas that devoid of vegetation. Visit them all to complete the challenge.
Battle Pass Not Required to Complete
You do not need the Battle Pass to complete this Challenge. Check out other Challenges you can complete the the Battle Pass!
Corrupted Areas Locations

The 7 locations where corrupted areas can be found are indicated in the photo above.
IMPORTANT:
Players must visit

all 7 corrupted area locations

to complete the challenge.
You

cannot

visit the same area twice, even within different game matches.
Corrupted Area 1: Southwest of Pleasant Park
Corrupted Area 2: South of Lazy Links
Corrupted Area 3: Wailing Woods
Corrupted Area 4: South of Retail Row
Corrupted Area 5: West of Dusty Divot
Corrupted Area 6: Between Greasy Grove and Shifty Shafts
Corrupted Area 7: Northwest of Fatal Fields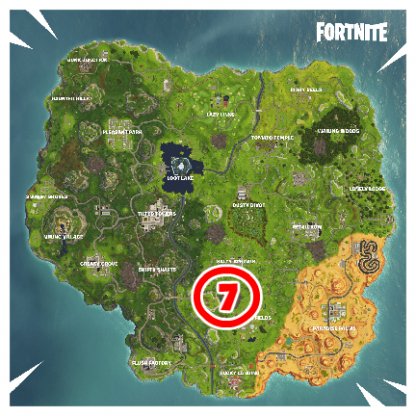 Corrupted Areas Tips
Make A Checklist
Keeping track of ALL Corrupted Areas you've already visited can be hard so making a checklist will save you time!
Use an ATK
Drive an ATK around and you can easily get to different Corrupted Areas in one match!
Check Out ATK Basics Here!
Choose Soaring 50s Mode

We recommend choosing Soaring 50s. With re-deployable gliders, you can move faster and visit more corrupted areas in a single match! Also, a half of the map belongs to your team and the territory of your team is comparatively safer.
Check Out Soaring Game Modes!
Use Rift-to-Go For Mobility

In case you find one, Rift-to-Go is a good way to cover ground since it transports you high into the air so you can use your glider!
Check Out The Rift-to-Go Guide
Fortnite Weekly Challenge Related Article
Week 10 Featured Challenge Guide
Week 7 Featured Challenge Guide
Week 6 Featured Challenge Guide
Week 5 Featured Challenge Guide
Week 4 Featured Challenge Guide