Find the location of the secret Battle Star & the hidden free Battle Pass Tier from the Season 5 Week 5 Fortnite Road Trip Challenge!!

The Other Secret Weekly Challenges
Check Out All Secret Challenge Locations!
Challenge Overview

| | |
| --- | --- |
| Challenge Requirements | Complete 5 Different Week Challenges |
Players who complete 5 of the Week Challenges will be awarded with a loading screen that contains a hint to the 5th hidden Battle Star location.
SPOILER ALERT! Critical hint below!
There's a drawing of a building in between cacti on the sign board. There's only one place in Fortnite with Cactus, the desert!
5th Secret Battle Star Location

Note: You can complete challenges from any 5 different weeks to unlock the secret Battle Star location. You don't have to accomplish weekly challenges in chronological order.
Surrounded by Cacti in the Desert
Map Location
The secret Battle Star can be found in the desert biome, West of the Racetrack near Paradise Palms!
Bird's Eye View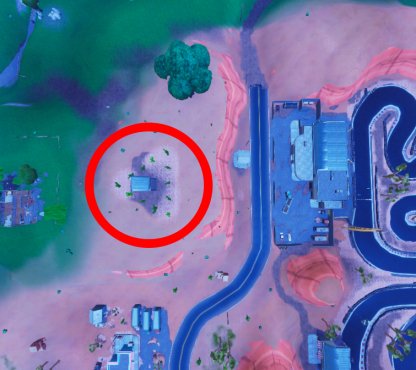 It's on this building surrounded by Cacti!
Close Up
Get on top of the building to get the Secret Battle Star!
Fortnite Weekly Challenge Related Article
Week 10 Featured Challenge Guide
Week 9 Featured Challenge Guide
Week 8 Featured Challenge Guide
Week 7 Featured Challenge Guide
Week 6 Featured Challenge Guide