Learn more about the amount of XP needed for each level and the rewards of the RAGNAROK Challenge . Check the leveling guide to get different styles for the RAGNAROK skin, including a Pickaxe, and Back Bling!!

Featured Progressive Skins
How Much XP Needed for RAGNAROK Levels And Rewards?
You need to earn 500,000 XP to be able to reach stage 5. Here is the list of stages and the amount of XP required to reach each stage.
Required XP & Leveling Chart - RAGNAROK Challenge
| Stages | Required XP | Levels |
| --- | --- | --- |
| Stage 1 | 35,000 XP | Approximately Level 25 |
| Stage 2 | 75,000 XP | Approximately Level 36 |
| Stage 3 | 125,000 XP | Approximately Level 45 |
| Stage 4 | 250,000 XP | Approximately Level 61 |
| Stage 5 | 500,000 XP | Approximately Level 79 |
How to Get Pickaxe? - PERMAFROST

Complete 4 Challenges to Unlock Unique Pickaxe
Upon completing 4 Challenges (Approx. 250,000 XP) in the RAGNAROK Challenge, you will be rewarded with the unique Pickaxe "Permafrost", seeping with ice cold power! The pickaxe is one of the hardest to get rewards in Season 5.
Check Out All Pickaxe List!
At What Stage Can The Back Bling FROZEN SHROUD be acquired?

When you have RAGNAROK in your Locker, you will also get the Back Bling FROZEN SHROUD as well. Unlike others, FROZEN SHROUD is a cape style back bling.
Complete The RAGNAROK Challenge After Season
Challenge for the RAGNAROK skin can still be completed even after Season 5 has ended.Try to get those cool Pickaxe and back bling!
How Can You Level Up Fast?
The best and most basic way to earn XP is to keep playing games, but here are some tips to level up even faster! no matter which mode. Follow the guide to complete all stages of RAGNAROK challenge!
Leveling Up Guide
Complete Weekly Challenges
Complete Daily Challenge
Play With Friends Who Have The Battle Pass
Survive And Be The Top Ranker In Battles
Eliminate Enemies
Check Out How To Level Up Fast
RAGNAROK Challenge - Skin Showcase
RAGNAROK - Full Portrait & Unlocks
Click the levels to see the RAGNAROK skin progression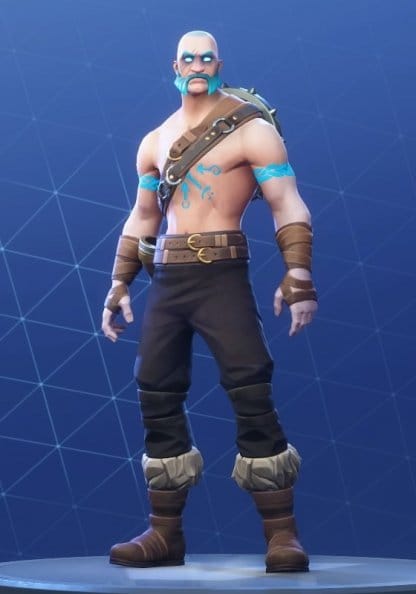 The Norse Harbringer of Fate Joins the Battle!
RAGNAROK holds in his hands the death and rebirth of the world! By earning XPs through his battles, he will acquire pieces of Viking armor, including a terrifying bone mask and cold blue frost!
Check Out The Skin List Here!
Customisable Styles & Unlocks
Unlockable Progressive Cosmetics

RAGNAROK is one of the unique Skins with the Progressive Challenge feature. Unlock new customizable cosmetics for this skin by completing certain set of criteria!
Unlock New Styles with RAGNAROK Challenge

Upon acquiring RAGNAROK, you will gain access to the progressive "RAGNAROK Challenge".You can unlock new styles for RAGNAROK by gaining certain amounts of XP!
How To Get RAGNAROK
RAGNAROK Unlockable in Season 5 Battle Pass

The RAGNAROK skin is an exclusive Battle Pass skin and will only be unlocked upon reaching Tier 100.
Check Out The Season 5 Battle Pass Here!
Season 5 Battle Pass Available for 950 V-Bucks
With the Battle Pass, you will gain access to wide variety of additional contents including exclusive Battle Pass Challenges, Skins, Gliders, Pickaxes, Emotes and many more!
In-Game Screenshots of RAGNAROK

After grinding for so long to get RAGNAROK, here's how he will look in your game. Time to see the Viking Legend in action!
RAGNAROK Standing

Look at that cool glowing arm tattoo!
RAGNAROK Running

The Rearguard Back Bling looks really well with the RAGNAROK skin.
RAGNAROK Doing An Emote

Strong and smart!
Fortnite Related Article
Season 5 Progressive Skins
Skin Related Article
Weapon Related Article
Play Tips