Shoot a three! Finish the Basketball Challenge for Fornite Battle Royale's Season 5 Week 2 Challenges with this guide - includes all the in-game basketball court locations!!

Week 2 Featured Challenge Guide
Season 5 Weekly Challenge Guide
Check Out Season 5 Challenge & Rewards
Score Three-Point Shots
Basketball Challenge - Summary

| | |
| --- | --- |
| Details | Score a 3 point shot at different basketball courts |
| Released On | Season 5 Week 2 |
| Reward | |
Nothing but net! To complete this challenge, you need to score three-point shots across 5 different basketball courts in Fortnite!
Battle Pass Required to Complete
You need the Season 5 Battle Pass to access and complete this challenge. Check out other challenges you can complete with the Battle Pass!
Check Out Season 5 Battle Pass & Rewards
Unlock the Basketball at Tier 11

You need to use the Basketball Toy unlocked at Tier 11 of the Battle Pass to complete this challenge. Add the toy to your Emotes Menu at the locker to be able to use it!
Check Out the Menu Functions Here
How to Use the Basketball
Use the Basketball Emote

Once in the three-point distance from the hoop, open your Emotes Menu and select the Basketball Toy.
Aim!

You can aim the Basketball using your crosshairs, but do it fast as the Emote automatically shoots the ball out of your hands. Do it right and you'll get a notice and confetti will come out of the hoop!
Three-Point Line

Only three-point shots are counted for this challenge. Most basketball courts have a three-point line you can use a guide, but you can also use two floor tiles as a guide if the court has no lines!
Basketball Court Locations

You can find Basketball Courts in the following locations!
Greasy Grove
Junk Junction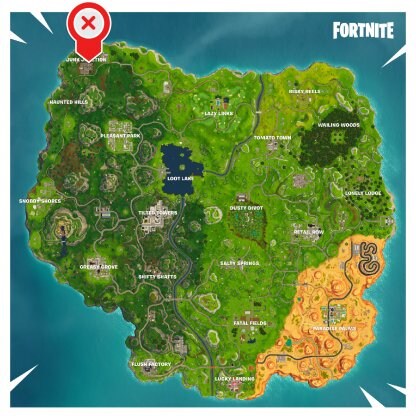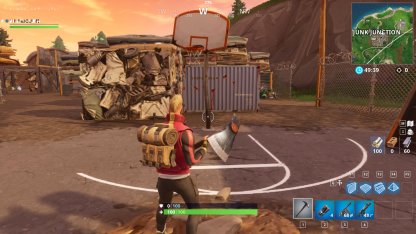 Lonely Lodge
Paradise Palms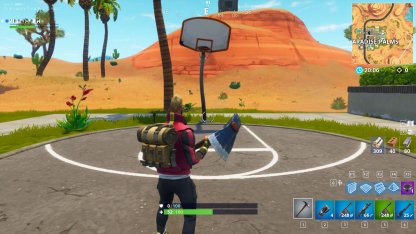 Retail Row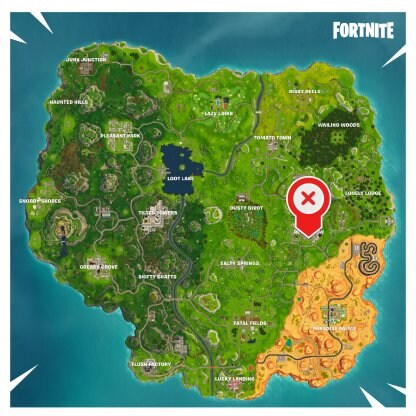 South East of Shifty Shafts
East of Snobby Shores
Snobby Shores
Tilted Towers
South East of Tomato Town
Fortnite Weekly Challenge Related Article
Week 10 Featured Challenge Guide
Week 9 Featured Challenge Guide
Week 8 Featured Challenge Guide
Week 7 Featured Challenge Guide
Week 6 Featured Challenge Guide