Suit up with Power Armors in Fallout 76! Find out where you can find Power Armors, their traits, & how to use them in this guide!

How to Find Guides
Power Armor Locations
What Is Power Armor?
.
New River Gorge Bridge - West Power Armor

This is probably one of the easiest Power Armors to find in the game if you're willing to find the key to open its doors. You can get the to the New River Gorge Bridge- West key in Camdem Park!
Step 1 - Find the West Bridge Key

You can loot the key in a backpack on the cart on top of Camdem Park's rollercoaster. There are Scorched around the area, but they're low level so they're easy to deal with.
Camdem Park Location

Camdem Park is marked in the map by a large rollercoaster, east of Charleston. You can find it near the dark-soiled area of the map.
Step 2 - Open the New River Gorge Bridge - West Door

Facing the bridge, go to the right side then go down to a platform surrounded with metal fences. Move down the pathway and turn left to a door. Inside, you will find the Power Armor!
New River Gorge Bridge - West Location
New River Gorge Bridge - West is just south of Flatwoods. The bridge isn't hard to find, but make sure to align your jump or you might fall when trying to get to the platform.
Morgantown Power Armor

Near Morgantown, there is a Power Armor just out in the open! Since it is so near and with very little enemies nearby, you can easily get it even if you're fairly low level.
Morgantown Power Armor Location
The Power Armor is in an abandoned shack right outside of Morgantown. It's very close to Mama Dolce's Food Processing Plant.
WV Lumber Co. Power Armor

In one of the shacks in WV Lumber Co., there is a Power Armor ready for the taking! Be a bit careful through as the Super Mutants in the area are Level 10 and above so this isn't recommended for beginners.
WV Lumber Co. Power Armor Location
The WV Lumber Co. is at the far north part of the map. You can find it easily as the lone building beside the river.
Blackwater Mine Power Armor

Outside of Blackwater Mine, there are abandoned workshop buildings all around. In one of them, you will find a Power Armor out in the open! Be careful though as Blackwater Mine is crawling with Mole Men.
Blackwater Mine Power Armor Location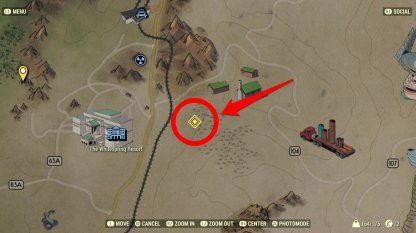 Blackwater Mine is located east of Whitespring Resort. You can find it easily since before the cave are abandoned workshops and cars lined up near the entrance.
Eastern Regional Penitentiary Power Armor

Backyard of Eastern Regional Penitentiary, there is a power armor station where you may be able to acquire power armor. No need to enter the entrance. Just go through paths to the backyard.
Eastern Regional Penitentiary Power Armor Location
Eastern Regional Penitentiary is located North Side of Full map, and West of Grafton Dam. Nothing else is around the Penitentiary, so easy to find the building.
What Are Power Armors?
Defensive Full Body Armor

Power Armors are fully customizable full body armor that allows players to take more damage in battle, as well as carry more items when in use. There are quite a few players can find in Fallout 76!
Check Out All Power Armors Here!
Powered by Fusion Cores

Power Armors require power from Fusion Cores to be used. Fusion Cores are gradually depleted when the Power Armor is worn by a player and will need to be replaced if they become empty.
Where to Get Fusion Cores

Power Cores can be taken from yellow generators in the game. You can find them usually in huge buildings and bunkers!
Increases Carrying Capacity
When in a Power Armor, the amount of items a player can carry will be increased! This will allow you to run and fast travel as long as they are in the Power Armor.
Regeneration from Armor Unavailable when in Power Armor
Health regeneration from equipped armor will be unavailable when a player puts on their Power Armor. As such, the only way to heal when in Power Armor is to use health items like Stimpaks and Salves.
Check Out Where to Find Stimpaks Here
Power Armors Have Level Requirements
Low-leveled players won't be able to wear power armors since most of them have a level requirement. You will have to be level 20 first before you will be able to wear them.
Collect the Chasis
However, even if you're low-level, you can still collect the Power Armor for yours to keep! Just loot the armor first to be able to wear the Power Armor.